Asphalt Reinforcement Services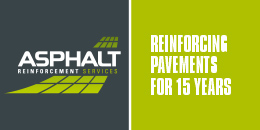 PAVING THE WAY FOR THE RIGHT SOLUTION
Highways, ports and freight terminals, airfields, bridges, car parks and private developments – they all need durable, high-quality asphalt surfaces.
Here at Asphalt Reinforcement Services we offer clients a comprehensive choice of pavement reinforcement solutions to suit a wide variety of projects, backed by knowledgeable technical support and commitment to excellent customer service.
HOW WE CAN HELP YOU?
Here at Asphalt Reinforcement Services we understand the challenges involved in pavement reinforcement.
We pride ourselves on the experience of our technical team, gained over many years in the surface treatment and construction industry.
We always work closely together with our clients, contractors and local authorities.
Our team of dedicated professionals here at Asphalt Reinforcement Services are ready to support you, every step of the way.
WHY ASPHALT REINFORCEMENT SERVICES?
SUSTAINABLE. We are in the business of sustainable pavement solutions – delivering a whole-life approach that brings significant improvements in value to every project. We take environmental protection very seriously: our solutions can be reused and recycled at the end of their life.
ADVANCED TECHNOLOGY. As exclusive UK distributors of the technically advanced GlasGrid® systems, manufactured by ADFORS Saint-Gobain, we are proud to be able to deliver a wide range of proven pavement reinforcing solutions, along with the essential technical advice and hands-on support you need.
SAFE. We put the Health and Safety of the general public, contractors and our employees first at all times.
RELIABLE. Our consistent commitment to high-quality delivery and outcomes reduces remedial costs and public disruption.
QUALIFIED. Asphalt Reinforcement Services were the first geosynthetic installer in the UK to have QCF NVQ qualified operatives fully compliant with NHSS13 accredited by BSI.
EXCELLENT SERVICE. Our customers choose Asphalt Reinforcement Services for our extensive knowledge, responsiveness and consistently high-quality service.
Asphalt Reinforcement Services are able to provide technical advice and solutions to suit all specifications. Please contact us to talk to one of our technical experts.
COMPREHENSIVE SERVICE
We can help with design and technical solutions, using our pavement design software tool ARCDESO® (Anti-Reflective Cracking Design Software).
You may choose to install our products yourself, but why not take advantage of our in-house ISO 9001:2008 accredited installation service, using our specialist plant equipment we are able to offer a range of surface dressings. Our team is supported by a network of supply chain operators which guarantees that we can deliver on all projects – irrespective of size – on a national basis.
We can also help your team with their continuing professional development, through our programme of technical presentations.
ACCREDITATION AND CERTIFICATION
Our operatives are QCF NVQ qualified and fully compliant with National Highway Sector Scheme 13 (NHSS) accredited by BSI.
We are accredited to the following standards:
• GlasGrid® CE Marking Certificate
• BSI/ISO 9001:2008 Quality Management Certificate
• CHAS – Contractors Health and Safety Assessment Scheme
• SMAS – Workplace Contractor Certificate
• Health and Safety Certification
• QCF (NVQ) Diploma Qualified Workforce
Contact:
Telephone: 01525 722200
Email: info@asphaltrs.co.uk
Web: www.asphaltrs.co.uk